I got some great news this week and I just wanted to share it with all of the awesome people that visit my bloggythingamajig. I wrote about my friend Jeff last year, who was diagnosed with terminal liver cancer. Well thanks to chemotherapy and a major surgery that removed a good chunk of his liver, he beat the odds and is now cancer free and I couldn't be happier for him. He has beat cancer twice now. I think he deserves a clean bill of health for an extremely long time.
Remember this name, Trevor Noah. He's one funny dude. Here's a link to a clip from YouTube about tacos that might make you pee your pants.
Kyle found a loophole in my tree rule. I told him if he climbed the tree in the backyard I would build him a treehouse. Well he climbed a tree. Not the one I was talking about but I do admire his ingenuity.




I forget how much of a sponge Hayden is and she never ceases to surprise me as to what she has absorbed. I told her it was time for bed last night and she just looked at me with a big smile, held up a couple of fingers, and said "Two more minutes." Her birth certificate says she is 2 but I don't believe it sometimes.
Well I better name drop Mrs. Shife since she's amazing and she lets me sleep in every now and then.
Ragnar Lodbrok is one bad dude. I started watching season 1 of Vikings (thank you Amazon Prime) and it's awesome. It is really helping me deal with the Game of Thrones void in my life.
Did you ever hear of a polar vortex before this week? I heard a comedian call it a snowman gang bang and I do believe that is a more memorable name.
By the way, you are awesome. You don't believe me? Just ask Tank.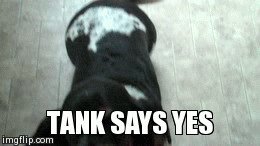 Thanks for stopping by, and have a wonderful weekend.
I will persevere. I will keep moving forward. I will be the stream.