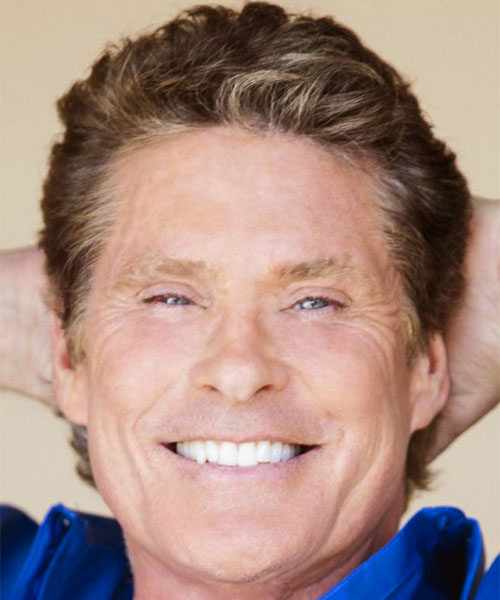 Confessions of a dumb, white guy is pleased to announce that it is David Hasselhoff week. All week long I will attempt to entertain you with wondeful insight and anecdotes about one of America's greatest icons, the Hoff.
The Hoff recently got tagged, and he was kind of enough to answer
1. First name: Hernando
2. Were you named after anyone? Hernando de Soto, the Spanish explorer.
3. Do you wish on stars? How else can you explain my successful career.
4. When did you last cry? Last week when I found some gray in my chest hair
5. Do you like your handwriting? Does Pamela Anderson like rock star cock?
6. What is your favorite lunch meat? Whatever is in a hero sa
ndwich.
7. What is your birth date? July 17th.
8. What is your most embarrassing CD? Probably my 1985 CD, "Night Rocker."
9. If you were another person, would YOU be friends with you? Does Carmen Electra like rock star cock?
10. Are you a daredevil? Have you seen me perform live on stage?
11. Favorite Magazines? Achtung or Schwing. They are huge German magazines.
12. Do looks matter? Ummm, hello, have you seen me.
13. How do you release anger? I run on the beach in my red swim trunks.
14. Where is your second home? On stage belting out tunes like "Looking for Freedom."
15. Do you trust others easily? Does Yasmine Bleeth like booger sugar? (Thanks LBseahag)
16. What was your favorite toy as a child? Silicone.
17. What class in high school do you think was totally useless? Drama.
18. Do you have a journal? Does Gena Lee Nolin have big boobs?
19. Do you use sarcasm a lot? No, I am too good looking to use sarcasm.
20. Favorite movie: The SpongeBob SquarePants Movie.
21. What are your nicknames? The Hoff.
22. Would you bungee jump? Did Parker Stevenson actually star on Baywatch?
23. Do you untie your shoes when you take them off? Shoes. I don't need no stinking shoes.
24. Do you think that you are strong? Have you seen me on Baywatch?
25. What's your favorite ice cream flavor? 2 scoops of hot chocolate.
26. Shoe Size? 14.
27. What is your favorite color? Red.
28. What is your least favorite thing about yourself? I am the Hoff, I am perfect.
29. Who do you miss most? KIT.
30. Do you want everyone you send this to send it back? Did Erika Eleniak pose for Playboy?
31. What color pants are you wearing? I am the Hoff, I don't wear pants.
32. What are you listening to right now? Myself.
33. Last thing you ate? A German sausage.
34. If you were a crayon, what color would you be? Wild Watermelon.
35. What is the weather like right now? I am the Hoff, it is always sunny.
36. Last person you talked to on the phone? Myself.
37. The first thing you notice about the opposite sex? Myself.
38. Do you like the person who sent this to you? No. I currently think he is a homo. We had a falling out at Thanksgiving.
39. How Are You Today? I am the Hoff, so I am great.
40. Favorite Drink? Almond smoothie.
41. Favorite Sport? Turkish wrestling.
42. Hair Color? Brown.
43. Eye Color? Brown.
44. Do you wear contacts? Does Traci Bingham have big boobs?
45. Favorite Food? German.
46. Last Movie You Watched? Baywatch: Hawaiian Wedding.
47. Favorite day of the year? I am the Hoff, every day is my favorite day.
48. Scary Movies Or Happy Endings? I like the happy endings.
49. Summer Or Winter? Summer.
50. Hugs OR Kisses? Yes, please
51. What Is Your Favorite Dessert? Cheese cake.
52. Who Is Most Likely To Respond? Gary Coleman.
53. Who Is Least Likely To Respond? Mr. Shife.
54. Living Arrangements? Right now I am living in my chest hair.
55. What Books Are You Reading? Baywatch: The Early Years
56. What's On Your Mouse Pad? My chest hair.
57. What Did You Watch Last night on TV? Knight Rider in HD.
59. Rolling Stones or Beatles? The Hoff
60. What's the furthest you've been from home? I am the Hoff, I am at home wherever I may roam.