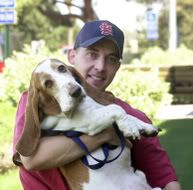 Mrs. Shife and I got some really bad news yesterday. Our beloved basset was diagnosed with an
oseteosarcoma
(bone cancer) in his upper jaw. It is a very aggressive cancer and we feared the worst going to the vet this morning as we fully expected that we would have to put Quincy down today. Fortunately after a cat scan
(don't you think they could at least call it a dog scan)
the cancer has not spread to the rest of his body and with a
maxillectomy
(removal of a portion of his upper jaw) the fat basset should be as good as new.
So Captain Furry Pants will have surgery tomorrow and if you could send some positive thoughts our way it would be greatly appreciated.
If you have not seen the great furbowksi in action here is a link to his
YouTube clip
and you can see why we are not ready to say goodbye yet to our furry little friend.