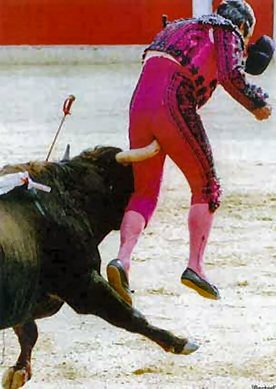 So I had a dream last night.
I was an unsuccessful Spanish bullfighter and to make ends meet I played the bongos in a Duran Duran cover band.
My name was Fernando Antonio Ordonez and my bullfighting career ended prematurely because I got gored in the nipple.
(I know the picture is of a guy getting gored in the ass, but it is the closest I could get. It isn't easy finding a gored nipple.)
Then I woke up.
I think it means I am super gay.
What do you think?