What the hell kind of title is that? Well, my friends, those would be the topics I am going to cover. I shall begin with Friday night. Mrs. Shife and I went out for dinner and a movie. We had a great dinner and I ate way too much. We went to the movie and my food baby ap
parently came equipped with a time machine because it went from the first trimester to breaking water in about 5 minutes. Sitting in the movie I just became completely uncomfortable. I seriously wanted to rip off my pants and enjoy the film in my panties. Mrs. Shife advised me this was not acceptable so I perservered and made it through the cinematic adventure. But the whole ordeal got me thinking, wouldn't it be awesome if they had vending machines with sweat pants? I mean I could have thrown down $20 and got myself a nice pair of a polyester/cotton blend sweats equipped with an elastic waist band. It would be so sweet. I would seriously have done cheers like this person if I would have had a pair of sweats available to myself during the movie. By the way, "Must Love Dogs" is a good flick, and John Cusack is a stud. Seriously, I am not gay but thanks for thinking that I was.
Next, I have perfected the catch and release move when wearing my flip flops. Occasionally when I take the fat basset for a walk a rogue pebble or stick will decide to call my flip flop home. When this happens, I can, in one fluid motion, kick off the infested flip flop, which sends the rogue particle back to the hellhole it crawled out of. Now the flip flop stays within my foot's gravitational pull and I am able to return my foot to its flip flop home without coming in contact with the street.
Finally, I was lying on the couch with the fat basset watching the remake of "The Longest Yard." He was nestled by my feet and looking like the furry little angel that he is. He got up and decided to come up and lay right n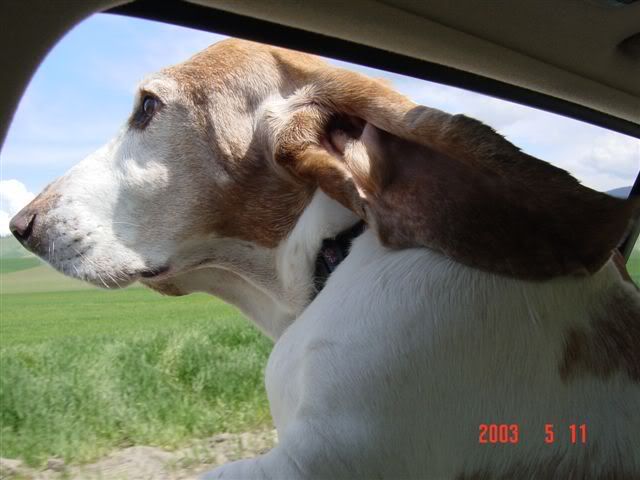 ext to me so we could spoon. And I am thinking to myself what a sweet boy. I am showering him with praise and then he looks at me and it is like he wants to tell me something. And then he opens up his mouth and pukes all over me.
Here is a picture of the canine vomiter.
Have a nice day.